Kaleb McGary NFL Draft Profile. Photo Credit: M. Samek | 247Sports | Sports Al Dente Illustration
School: University of Washington
Class: Redshirt Senior
Height: 6'7
Weight: 317 pounds
Kaleb McGary NFL Draft Profile
Top 3 Player Traits
Power
McGary has an incredible punch and is nearly impossible to move by a bull rush. This should hold up against the bigger bodies he'll see at the NFL level. He has a massive frame that's tough to get around, and if he gets his hands into the chest of a defender, he can bury them. If he gets to the second level, as he does on this play (#58), he can drive a linebacker back at will.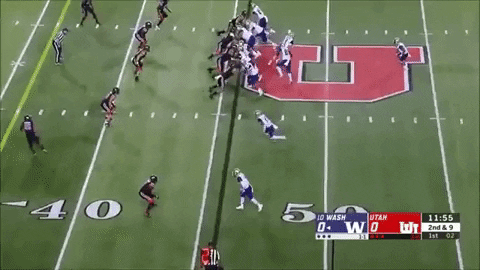 Athleticism/Instinct
The play below is a perfect example of McGary's football instinct and athletic prowess. While he isn't the best at sliding laterally (which we'll get to later), he's still able to come off his block and take the unblocked corner coming on a blitz off the edge. He whips around, knowing he has help on the end and turns what looks like an easy TFL into a first down.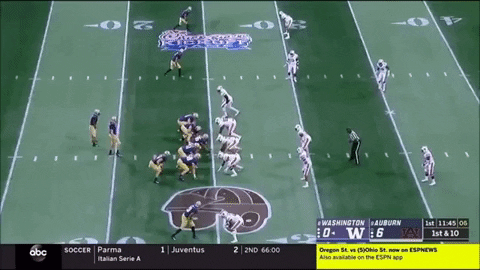 Fits In Any Scheme
No matter what you need him to do, McGary can do it. He's an excellent blocker for both the run and the pass, no matter if it's a zone, power, or anything else, he fits the system. There's no NFL team that wouldn't be able to find a spot for McGary, and he's got a great opportunity to start from day one.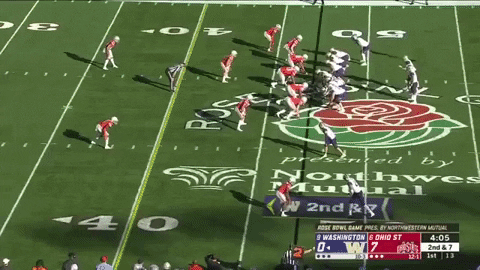 3 Player Traits In Need Of Improvement
Handling The Speed Rush
McGary has a tough time when he sees speed off the edge. While he's a pretty athletic tackle, he has a tough time sliding laterally. He'll be facing a ton of speed rushers if he plays tackle at the NFL level, and depending on a team's situation at tackle, they might kick him inside to guard.
Health
This has nothing to do with his durability, McGary has played in every game during his four seasons of eligibility. He's been diagnosed with heart arrhythmia, which might take him off some team's boards. He was medically cleared to play in college and (obviously) played very well. It hasn't seemed to set him back in any way, but it's something to keep an eye on.
Balance
Like I said above, McGary has trouble against the speed rush, and he demonstrates his biggest flaw in technique when facing it. He has a tendency to lunge out at the rusher, which throws him off balance. You see the same thing when he isn't able to get the first punch in, the defender can overpower him and throw him off (#58 at the right tackle position).
NFL Team Fits
New York Giants
The Giants could use some help on the right side of their offensive line, and McGary could be the perfect guy to step in for them, whether it be at right guard or right tackle. They moved on from a ton of offensive linemen in 2018, and if they draft a quarterback, they'll want to keep him protected.
Houston Texans
They already drafted an excellent young quarterback, now they just need to keep him protected. McGary is an option that could be available on Day Three of the draft and would be an upgrade over most of the guys they have now.
Arizona Cardinals
Whether it's Josh Rosen or Kyler Murray at the helm, he's going to need some protection. McGary would also be a great player for David Johnson to run behind. Just like with Houston, he would be an upgrade over most, if not all, the guys currently on the offensive line, and could be a steal later in the draft.
Round Projection
Round 5