Jarrett Stidham NFL Draft Profile. Sports Al Dente Illustration
School: Auburn
Class: Red-Shirt Junior
Height: 6'3″
Weight: 215
Jarrett Stidham NFL Draft Profile
Top 3 Player Traits
Accuracy On Quick Throws
The Auburn product is excellent when it comes to making quick-hitting throws. His arm is certainly strong enough to hit his man in stride, both over the middle and to the sideline. When he maintains his focus (and eye contact) on his receiver, especially on those quick passes, he can be as impressive as any quarterback in this draft. He might need a cleaner pocket that some other QBs.
Deep Pass Ability
Stidham's arm strength is very good but not great. What he does seem to have in spades is good touch on long passes. He has the ability to hit an open receiver in stride deep. There is also plenty of video evidence of him being able to fit his passes into tight spots, which obviously is much more of a requirement on Sundays than it is at the college level. Due to Auburn's offensive style, he's gotten plenty of experience throwing play-action passes, which he excels at on those deep balls.
Running Ability
Auburn's system presented him with plenty of opportunities in the run game. Both in QB draws and zone read-type plays, Stidham's running helped his team in a big way. Those two scenarios might not creep up as much in the NFL, but his ability to both roll out and throw and especially to tuck the ball and run to the sticks on broken plays will stand out among the quarterbacks taken in April. As is so often the case, though, he will need to make sure his running is controlled as opposed to taking off and fighting for yards.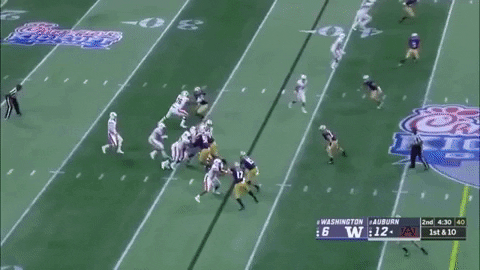 3 Player Traits In Need Of Improvement
 Happy Feet In The Pocket/Bailing Out
Too often, he doesn't let the play develop. In many cases, when pressured initially, instead of avoiding the rusher and keeping his eyes downfield, he takes off, failing to give any receiver a legitimate chance at helping him. He needs to do a better job scanning the field, even when facing pressure.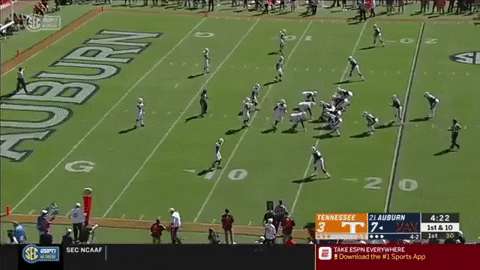 Reading The Whole Field/Checking Down Early
Stidham has more than enough arm strength to make all the throws the NFL requires. But, unlike in college, he will need to go through his progressions, especially when not being hurried. As mentioned earlier, he has more than enough athletic ability to avoid any initial pocket pressure and still locate a receiver downfield, instead of relying too much on his check down, safety valve.
Touch On Medium Throws
I'm not sure if it's his grip on the ball on certain plays/patterns or if it is an occasional mental lapse, but he has moments where the ball floats on him, particularly in the flat. He has ample throwing strength to make these plays, so it's a little baffling to me why this is happening so often. A lot of first downs and clock-stopping, late-game catches are made on these types of pass patterns in the NFL, so Stidham needs to clean this area up.
NFL Team Fits
Los Angeles Chargers
Although he continues to play like it, Philip Rivers won't be in the NFL forever. Stidham could be the strong-armed, mid-round pick that L.A. can groom for a few years until Rivers walks away.
Tennessee Titans
Not that the organization would admit it, but I think Marcus Mariota has been a disappointment for Tennessee. The honeymoon is surely over for him in Nashville and unless he shows more of a penchant for passing, it wouldn't be a shock to see the Titans draft a QB at some point, possibly on the second day of the draft.
NFL Comparison
Stidham has what the former Jags QB had coming out of college, namely a big arm and good overall athletic ability. Bortles, of course, was a first-round pick, which is a burden Stidham won't have to carry.
NFL Draft Projection
5th Round