http://NFL.com: John Johnson Makes 'Sneaky Good' List
Chargers Should Push For John Johnson III In Free Agency
The NFL is a world of connections and when free agency opens up, a player's relationships play a role in where they decided to sign. Money is the most important, but oftentimes free agents sign with former coaches. The Chargers will be targeting several of new head coach Brandon Staley's disciples, none more important than John Johnson III. 
The Rams safety is headed into unrestricted free agency and is unlikely to re-sign with the other LA team. Johnson had a monster year under Staley in 2020, and the fit makes sense for the Chargers. Rayshawn Jenkins started for the Bolts the last two seasons and is headed to free agency. The Chargers have all-world safety Derwin James but should look to bring in a high-level insurance policy due to his health concerns. This clears the way for the team to make a strong push for Johnson. 
Johnson has been solid during his four-year career but in 2020 he reached new levels. He was an instrumental piece for the top defense in the league. Johnson was more than just a safety as well, lining up in the Star and Money roles for the team. He was put in positions to be around the football, and he excelled. 
In coverage last year Johnson was a menace. According to Pro Football Reference, he allowed a stifling 4.4 yards per target and zero touchdowns in coverage. When quarterbacks targeted him, he allowed a Passer Rating of just 71.9.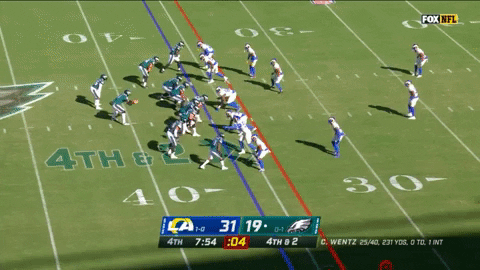 He also tackled well, which has to be attractive to one of the worst tackling teams. With 105 total tackles, Johnson missed just 7.9% of his tackle attempts. For comparison, Jenkins has never missed less than 11.6% of his tackles in his two seasons starting. This is important because safeties have to be sure tacklers in the Chargers' new defense. 
One of the underrated skills in Johnson's bag is his discipline. He doesn't often make the mistake that leads to the big play.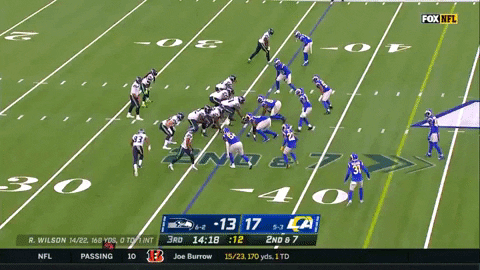 In the above play, Johnson is in man coverage against the running back. Halfway through he has the decision to stick with his guy or try to and charge Russell Wilson to force a bad throw. Johnson sticks with Alex Collins and trusts Kenny Young to make the play on Wilson. If he breaks his coverage and pursues Russ, it is probably a big gain.
Johnson's impact was even greater than what the box score shows. On film, it was clear Staley knew he had a weapon and lined him up everywhere. There were times when he was the deep safety and times he played linebacker. In certain matchups, you might see him going one-on-one as a slot corner. This versatility is rare and he played every position well. Staley trusted Johnson so much that even as a safety, he was trusted with calling the plays.
Staley joined the Cris Collinsworth podcast with Richard Sherman and opened up about Johnson's role. He made it clear how valuable he was.
"We just felt like using him in that way would be the best for the Rams and I'm glad we did it because, I'll tell you what, There's no way we have that season without [Johnson] as the green dot".
The green dot refers to the sticker play-callers wear that signifies their helmet has a radio in it. To earn these honors, great communication is necessary. You have to have everyone lined up correctly and have a full grasp of the defense. You have to be on the field as well.
"So Richard it's something that, he's a tremendous communicator he's got the respect of all his teammates and he was a guy that was never gonna leave the field. Our linebacker situation as you guys know was a little tenuous in terms of our depth and our experience. We just knew that John was gonna be out there the entire time, whether he was playing safety, star, money, he was gonna be out there", Staley said.
Staley is a guy that constantly preaches communication, and it's clear that he appreciates Johnson in that role. Communication in the secondary was one of the Chargers' biggest issues in 2020 on defense. With the team installing an entirely new defense, having a guy with such a complete understanding is invaluable.
"…There's no way we have that season without [Johnson] as the green dot".
The fit is obvious. The Chargers have bigger needs, namely the offensive line, but it's hard to argue anyone fits better. I do not doubt that Tom Telesco will be interested, but what will the price tag be?
The Chargers have a relatively healthy cap situation. With the salary cap going down to around $180 million, many teams currently have negative cap space. According to spotrac.com, the Chargers currently have around $34 million in available space. This is great, but the team will have to use a good amount of that to bring back major contributors like Michael Davis and Hunter Henry. They also have three of their five offensive linemen headed to free agency. 
There are several reasons why the Chargers could be unable to bring Johnson. Just recently we saw Budda Baker receive an average annual salary of just under $15 million. They are not similar players, but if that's the market for an above-average safety, the Chargers are in trouble. If they can work out something closer to the Adrian Amos contract, four years for $36 million, they would have a shot. 
The other issue is that the Rams could decide to place the Franchise tag on Johnson. They will have a tough decision to make between him and cornerback Troy Hill, but the safety franchise tag comes with a more reasonable cap hit. They did use the franchise tag in 2019 to keep Lamarcus Joyner around. The Rams are over the salary cap now, but they could decide to slap the tag on him now and figure the rest out later.
If Johnson is off the table, I would expect the Chargers to try and bring back Jenkins. This isn't a terrible scenario as Jenkins has improved over the past two seasons. If there is a choice between the two, I think the easy answer is Johnson. This is not a knock on Jenkins, Johnson has just already shown success in Staley's defense. 
If the Chargers can land the Rams safety, it would make the team much more versatile. Safety Nasir Adderley would not have to start for the team after a shaky season. They could even have him potentially play some corner to add depth to an aging group. It would also cover up some of the deficiencies in coverage the team has a linebacker. On many obvious passing situations, Staley has put Johnson at linebacker to match up with tight ends a running backs. This will also allow Staley to use safety James as a weapon all over the field. 
It is not often that a match this perfect comes along in free agency. The stars are aligned and the Chargers should have Johnson near the top of their free agency wish list. This defense has a long way to go to reach the number one defense that Staley had last season. Bringing in Johnson would be a great first step.