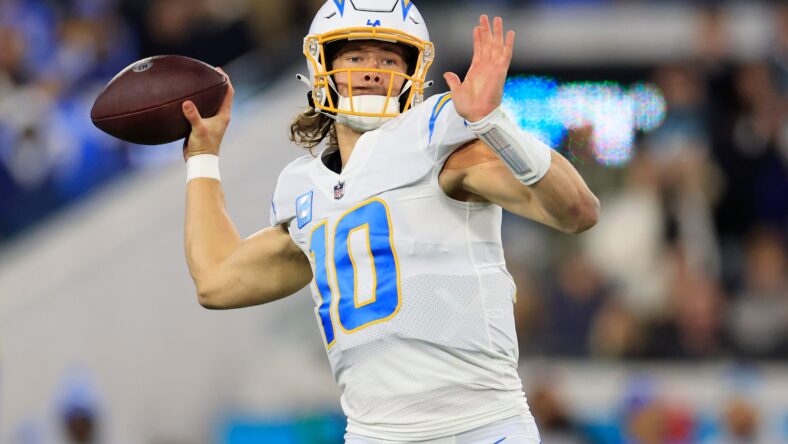 Corey Perrine / USA TODAY NETWORK
Top 15 Most Important Los Angeles Chargers Players Of 2023
Justin Herbert is the heartbeat of the Chargers and I don't just mean in a typical, "the QB is the star" way. I mean it in the way that he plays and the way he leads. Herbert had an amazing rookie 2020 season, complete with breaking passing records and Rookie of the Year. 2021 was even better, silencing the sophomore slump projections. 2022, meanwhile, was good, but due to many circumstances out of his control, things could have gone better. He's healthier this season as are his teammates, and it's time he gains a bit of that 2020-2021 magic back, so he can earn the contract extension he rightfully deserves.
Austin Ekeler was the receiving and rushing core of the Chargers last season and had career-highs in rushing snaps and receiving targets. Given he's the most consistent running back on the team, he will be critical in making sure their run game is on point. This season is also critical on a personal level, as he did seek a trade this offseason when contract negotiations weren't progressing. If he plays well this year, not only will he earn all the extra performance incentives that were added to his contract, he'll further demonstrate his worth, which will hopefully keep him on the Chargers in 2024.
Eric Kendricks is going to be the mighty MIKE linebacker that the Chargers lacked last season. He, along with new defensive coordinator Derrick Ansley, will work to whip this defense into shape and stop some explosive rushing plays.
Mike Williams had a stellar year in 2021 with career-highs in receiving yards (1,146) receptions (76), and receiving targets (122). He was on par to do just as well in 2022 and then injuries happened. He's going to be needed to add that explosive element back into this offense. He'll also need to prove he's healthy enough to give a repeat of that 2021 season.
5. Quentin Johnston
Quentin Johnston may end up playing a big role in this offense, especially since he was a number one draft pick. If Williams can't be that big, explosive, deep-threat, player that the team needs, expect Johnston to pick up the slack. He will hopefully develop into the weapon the Chargers need to take their receiving game to the next level.
Derwin James is always the ace in the hole for the Chargers and the coverage is better when he's there. He's the highest-paid safety in the league for a reason, and enough can't be said about all the talent he brings.
I wrote about Bosa last week for my defensive stat machines article so in addition to everything I've already said about this dynamic player, know that he and Khalil Mack will be big pieces of this defense that will bring the run defense back to life.
We only tasted Khalil Mack's talents on the Chargers last year without Bosa. With the two of them together, expect some great things.
It's going to be another big season for Asante Samuel Jr. as he works to correct some of the coverage mistakes he made on the boundary last year. He's one of the best corners they have, so he's going to be counted on a lot.
Sebastian Joseph-Day was the constant piece in the 2022 defense, keeping it afloat as they weathered an injury storm. And he'll be the one they're counting on as those around him like Austin Johnson get back to playing form. Despite all the turmoil, Joseph-Day had a good enough season with 33 STOPs, 13 quarterback hurries and four hits, and 39 tackles. He'll look to improve on those numbers this year as hopefully things steady around him.
11. Rashawn Slater
Rashawn Slater is a rock and though Jamaree Salyer did great holding down the left tackle fort, Slater was certainly missed. He, along with right tackle Trey Pipkins, left guard Zion Johnson, right guard Salyer, and center Corey Linsley should be considered one of the best offensive lines in the NFL and will hopefully contribute to fewer sacks and overall pressures on Herbert. Coming back from his injury, Slater will fit in perfectly with this retooled offensive line.
J.C. Jackson is hopefully going to be a key part of the Chargers enhancing their receiver coverage. And we don't need the "adjusting to the defensive scheme" version of Jackson we saw last year. We need the "New England" version, the one who had career-highs in 2021 for Pro Football Focus in defense (78.9%), receiver coverage (80.3%), solo tackles (50), and STOPs (14). If he can come back stronger and more prepared, he'll show why he's being paid $82.5 million over five years.
Gerald Everett is coming off a phenomenal season and had career-highs in receiving targets (89), receptions (64), receiving yards (664), and receiving touchdowns (five). He was one of Herbert's trusted targets last year and I expect that to continue. As Donald Parham and Stone Smartt get up to speed and Tre'McKitty tries to stay afloat, Everett will be leading the way.
JT Woods didn't get a lot of playing time last year, but with the retirement of Nasir Adderley, he's sure to see a lot more action. On the first day of minicamp, Brandon Staley said that Woods has gotten to a good weight and they know his strengths in the slot and the deep part of the field, but that training camp will be important for him. James and Alohi Gilman will be the other main safeties, but Woods will certainly be counted on for a deeper role this season.
15. J.K. Scott
JK Scott added a reassuring veteran presence to the special teams unit last year with some good average hang time (4.71 seconds for the season) and yardage (longest was 60) on his punts. It's great the Chargers signed him for two years as he's going to be a key piece to put them in positions to make some great takeaways on special teams.