After the Chargers offense sputtered around on Sunday someone had to take the blame. The game was probably three drives in when some fans started calling for starter Tyrod Taylor to be benched. Undoubtedly, some of them were formerly preaching patience so that rookie Justin Herbert could sit and learn. 
The other person who was flamed the most was Offensive Coordinator Shane Steichen. With the offense mustering up only 16 points, Steichen's first year as the full-time coordinator got off to a rough start. Whether it was bad play-calling or a lack of execution, it was uninspiring. 
We know that both parties have to shoulder the blame, but who deserves it more?
Both of these men should be allowed some leniency due to a multitude of factors. They were done no favors with a condensed training camp while social distancing due to COVID-19. They also were rolling out a very different offense than in 2019. Keenan Allen, Austin Ekeler, Mike Williams, and Hunter Henry were the only players who started at the same position Week 1 for the Chargers last year. 
On the offensive line, two starters were out in Trai Turner and Mike Pouncey. The ones who played did so admirably but they were fighting an uphill battle. Outside of Bryan Bulaga, the rest of the line had two combined starts in the NFL at the position they played on Sunday. 
Now that the caveats are done, let's look at how bad it was. 
Taylor finished the game with 208 passing yards and was inefficient completing only 53.8% of his passes. It's hard to find a metric that liked how Tyrod played with a QBR of 25.8 (50 is league average) and a Passer Rating of 75.4. There were several plays where he overthrew open receivers.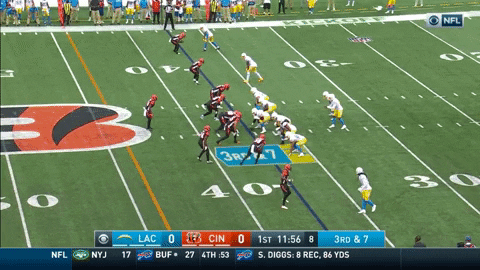 There were other times when he just plainly didn't see them. Here Keenan Allen finds himself all alone in the flats and Tyrod throws it into borderline triple-coverage to Henry. If he holds it another half-second he probably has Williams deep as well.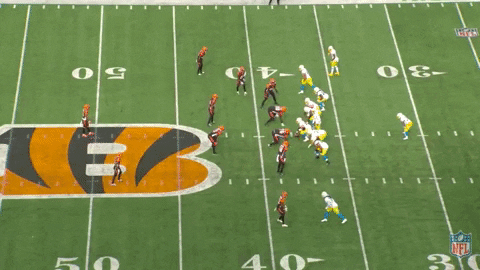 Taylor did have a few moments, including a pretty deep ball in between the safety and corner to Williams.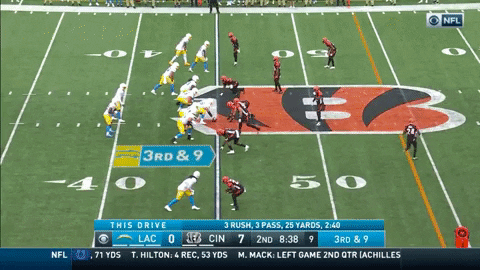 Unfortunately, most of the time that Taylor tried to push the ball downfield it ended up falling harmlessly to the turf. 
The part of Taylor's game that excited Chargers fans the most was his mobility. Against the Bengals, Taylor had a couple of designed runs and a couple of scrambles but managed just seven rushing yards on just six attempts. He had other times when his legs helped minimize some sack yardage, besides that it wasn't an explosive start. The one place it did show up was throwing on the run. This was an underutilized part of his game the first week but he did make a handful of plays.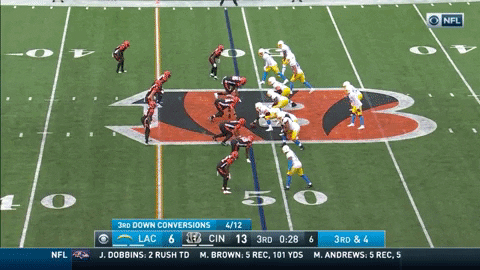 Overall, Taylor looked out of sync and at times just bad. I am not going to blame him for the entire offensive meltdown but he played a major role. Taylor's calling card during his NFL career so far has been to not turn the ball over, and he succeeded in that. The problem is he didn't do much well outside of that and the Chargers need more. 
Shane Steichen has to be kicking himself, after seeing what the Browns did to the same defense his team put up 16 points against in Week 1. Those two teams know each other much better, but it's impossible not to be critical of Steichen's game plan against the Bengals.
There were certain parts of the Chargers offense that looked different from last year's team, and some that looked the same. I have been clamoring for much more play-action with the absence of Philip Rivers and we saw it. 
According to The Athletic's Daniel Popper, the Chargers ran almost 15% more play-action plays against the Bengals than they averaged last season. Some of the team's best plays of the day were created because of it. I especially liked this play designed to get Keenan Allen involved and give Tyrod an easy completion.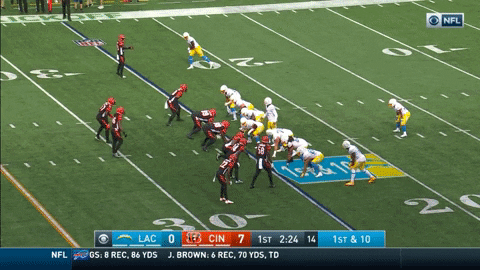 Most of the play-action was on jet sweep motions, but I would love to see more like the one above. One thing that Tyrod does well is throwing on the run and we didn't see enough plays designed to do that. We also saw Keenan Allen criminally underused with only four receptions on the day, he has to be much more involved in the game plan going forward. 
The running game was also pretty lackluster on Sunday even though the team ran for 155 yards. The problem was that they didn't do it very efficiently averaging just under four yards per attempt. Outside of a few chunk plays from Ekeler and Joshua Kelley, there wasn't much excitement. 
Most of the Chargers runs were between the tackles, which fits more of what Kelley does. For Ekeler and Justin Jackson, I thought we would see them try to stretch the defense horizontally to accentuate their ability in open space. Instead, it seemed too often the strategy seemed to be run into a wall repeatedly and see if someone breaks through. We did see some wide zone runs, but not nearly enough for my liking. 
There was one rush I loved that worked exceptionally and it was the Chargers running a speed-option for a first down. A speed option! Something unfathomable in recent years. 
One of my biggest criticisms of Steichen on the day was his use of Ekeler. This coaching staff has preached that it's not about receptions, but total touches that are important for Ekeler. I strongly disagree. The former undrafted free agent is wildly more efficient through the air. The Bengals did a good job of accounting for him on most plays, but Ekeler one-on-one with a linebacker is still a mismatch. 
Where Steichen must get better is play-calling in situational football. The Chargers failed to convert on multiple 3rd and 4th-and-short opportunities. A read-option on fourth down where Tyrod gets tackled for a loss. A quarterback sneak behind Tyree St. Louis for no gain. The team also had a chance to seal the game on a 3rd-and-one late in the fourth to seal the game. Joshua Kelley would be stacked up for no gain.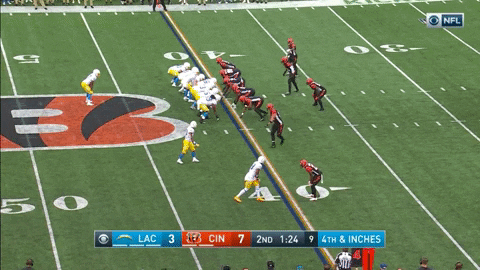 Too many times the Chargers think they are just going to outmuscle their opponents, failing to realize the personnel doesn't fit. I would love to see a play-action rollout instead when the other team's expecting a run. Give Tyrod a couple of easy options to throw to, and if it's not there he has a chance to pick it up with his legs. 
The offense for the most part was pretty vanilla. Most of the passing plays were very simple with only one or two reads as opposed to making Tyrod fully work through his progressions. I didn't think we would see a world-beating offense but I would be lying if I said I wasn't expecting a bit more. That being said, after re-watching the game the opportunities were there, they just didn't capitalize. 
Neither Steichen nor Taylor had a good game. The play-calling and execution both need work, and I think it will take some time for this offense to find it's identity. You can have a perfect play, and if it's not executed it looks bad. I think more often than not on Sunday that was the case. 
I think that part of the problem is that I expected Tyrod to do more with his new weapons. Taylor is who he is. A risk-averse quarterback who can manage a game unspectacularly. I think the debate of who's slowing the offense down will rage as long as the team underperforms. However, through one week I think that Taylor was more to blame for the offensive woes.