Ryan Finley NFL Draft Profile. Photo Credit: Pack Insider | Sports Al Dente Illustration
Ryan Finley – Quarterback
School: North Carolina State University
Class: 6th Year Senior
Height: 6'4"
Weight: 212 Pounds
Ryan Finley NFL Draft Profile
Top 3 Player Traits
Timing and Anticipation
One skill Finley showed fairly consistently was the ability to get rid of the ball on time. He played primarily in the pistol with a lot of three-step drops, and the ball was often out as soon as he hit the top of his drop.
Here's one example. The slot receiver to Finley's left is running a quick out route right at the first down marker. Finley takes a short drop and gets the ball out right away toward the sideline for a first down. There are two defenders reading the play, but Finley lays this ball out with anticipation and gets it to his receiver as he's breaking out before either defender can make a play. This type of route and throw was common for Finley in this NC State offense.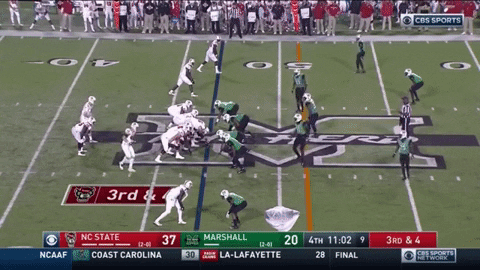 Here's another example. On this play, Finley is able to complete a pass to his receiver on an in-breaker over the middle. Finley does a great job anticipating this throw. When he starts his release, the receiver has not yet broken inside and is still pressing the defender downfield. As soon as he breaks out, the ball is already there waiting for him, leaving the defense no chance to react.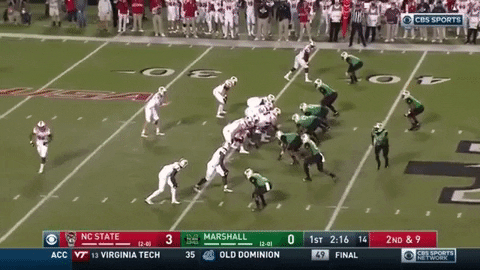 And lastly, here's Finley with perfect timing on a fade route to his outside receiver. He lets this ball go right away, with enough anticipation to allow his receiver to beat the corner. The ball arrives right as the receiver is breaking free, but before the safety is able to arrive.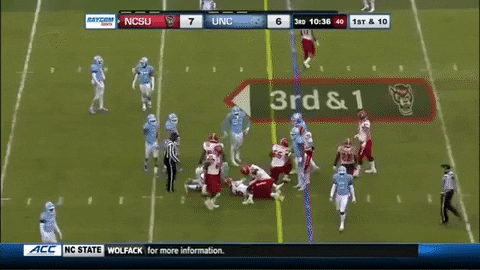 Back Shoulder Throws
Finley's excellent sense of timing really helped him throw the back shoulder pass to perfection. Here's one example versus Clemson. Notice the ball location on this throw. Finley puts it directly on the back shoulder, in a spot right where the receiver can make a play on it with no chance of the defender getting being able to get his hands in.
This ball has to travel a good 35 yards down the field, so it's a real testament to Finley that he's able to make the throw with such precision. It's a timing throw that not all quarterbacks can make.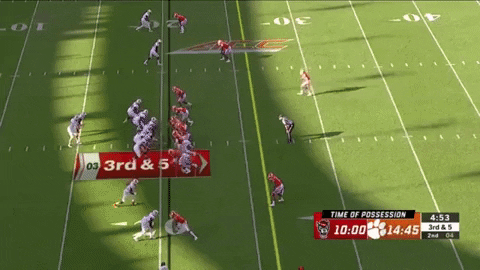 Here's another back shoulder throw, this time at the goal line for a touchdown. Finley identifies his one-on-one matchup pre-snap and lets the ball go right away. It's placed exactly where it needs to be, and the receiver hauls it in for the touchdown.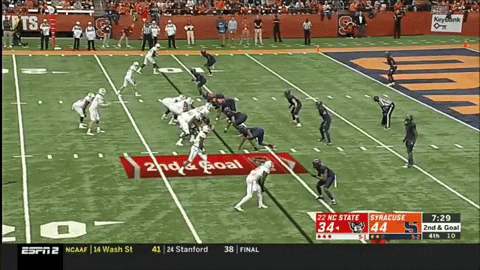 Looking Off Defenders
Another area where Finley excelled was looking off defenders with his eyes. On this play, Finley starts to his left, which brings the middle linebacker a step out of position. This creates a window for Finley on a dig route to his right. He hits the receiver in stride for a big gain, and instead of being able to make the pick, the linebacker has to chase down the play to prevent a touchdown.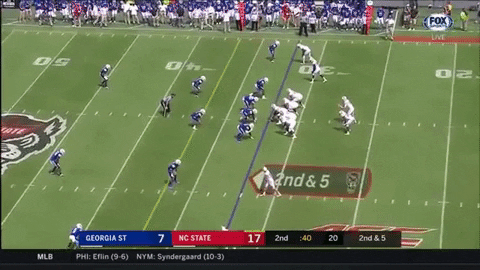 This is one of Finley's best throws, a fade route to his right against Boston College for the touchdown. Finley once again shows tremendous anticipation in being able to drop the ball into his receiver's hands right as he breaks free. But Finley also does a great job looking off the defense on this play.
He starts the play with a quick look to his left, which ultimately causes the safety to be too late getting over to the receiver running the fade on the right side.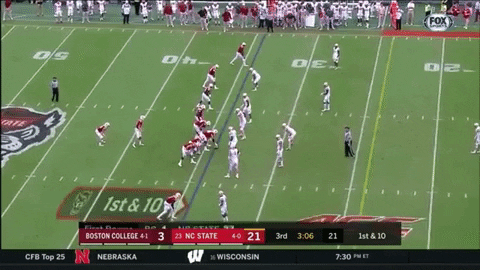 3 Player Traits In Need Of Improvement
Decision Making
Finley's decision making left a lot to be desired at times. This play is 3rd and Goal in the red zone, so it's crucial that Finley protect the ball and keep points on the board. After taking the snap, Finley faces immediate pressure from multiple directions and drifts back and to his right. It's a play the defense has clearly won, but instead of taking the sack or throwing the ball away, Finley simply tosses this one up for grabs toward his running back.
The throw is nowhere near there, and Finley gets picked. This is a play you simply can't make, but it's one Finley made multiple times throughout the season, under heavy pressure, rolling right and falling back, and just tossing it up to the defense. You have to be able to throw the ball away in situations like that, and that Finley repeated this very juvenile mistake throughout the season is cause for concern.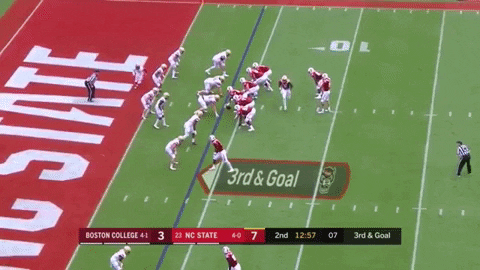 Here's another play where I question Finley's ability to operate under pressure. As Finley steps up, the defensive end dominates Finley's left tackle and moves right into Finley's face. As a result, Finley throws this ball directly to the defender.
There's a receiver underneath and another one behind the defender and the ball isn't really close to either of them, so it's not clear where Finley is going with this throw. Nonetheless, it's a play that raises questions about Finley's ability to decipher coverages over the middle of the field, as well as his ability to make good decisions–especially while under pressure.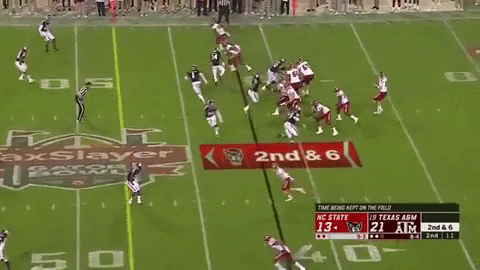 Lastly, after a long shootout with Syracuse, Finley and the Wolfpack are down 3 with just over two minutes left in the game. Finley drops back and faces pressure as his right tackle is beaten. He throws an interception right to the defense, with three defenders in the area. That effectively ends the game, and the Orange would go on to win 51-41.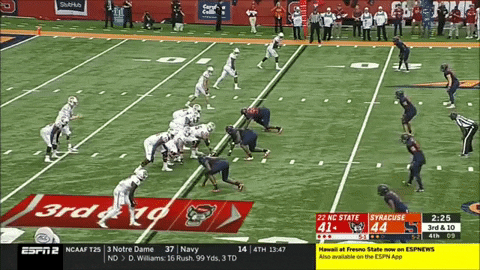 Accuracy
Despite playing in an offense that contained many quick, short, and easy throws, Finley's accuracy left a lot to be desired. On this play, it's an easy read and throw, just a quick out for the first down. Finley has a clean pocket and identifies the matchup, but the ball is too high and the pass sails incomplete, bringing up 4th down.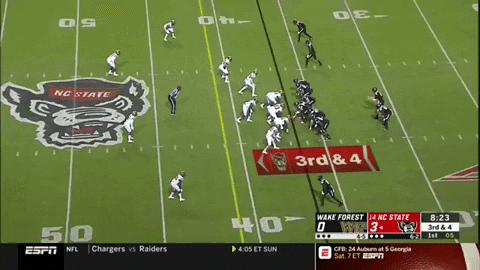 On this play, it's another quick read and throw. Finley executes a quick play fake before targeting his outside receiver on the slant. With the corner in off coverage, this receiver should make the catch cleanly with an ability to get some additional yards. But instead of putting the ball in between the numbers, Finley leads his receiver out in front, forcing him to make a diving catch.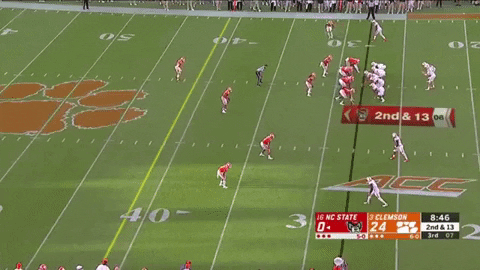 Lastly, here's another throw Finley wished he had back. He's targeting his slot receiver on an out route at the sticks. The receiver is covered well, and Finley has to make the throw with a free rusher in his face. Even so, the ball is way too far inside, and Finley's lucky that Clemson isn't taking this one the other way.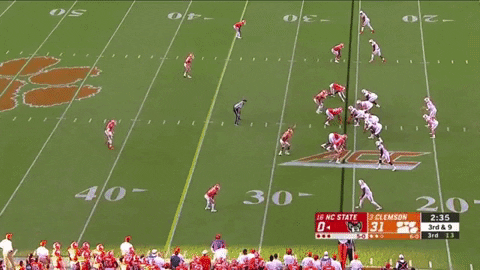 Mechanics
I worry about mechanics with Finley, specifically when it comes to his lower body. On this play, Finley's actually able to squeeze in a nice completion in between two defenders. But while sitting in the pocket, Finley's lower half becomes stiff, and he makes this throw with just his arm.
Finley's stiff lower half severely limits his functional mobility, and that will be a problem as he transitions to the NFL. Finley did not face too many crowded pockets at NC State, nor did he have to hold the ball for much longer than he was comfortable with. Both of those things will change in the NFL, and therefore this problem will be exacerbated if it's not fixed.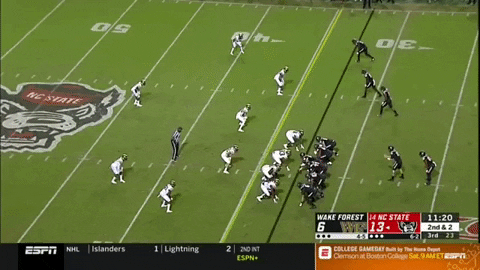 Finley's stiff lower body will also negatively impact his accuracy. You can see it on this throw, where Finley makes the throw once again with just his arm. He doesn't follow through with his lower body, he doesn't take a lead step with his front foot, and he actually loses balance as he's delivering the ball. The result is a throw that's behind the receiver and too soft, and the pass falls incomplete.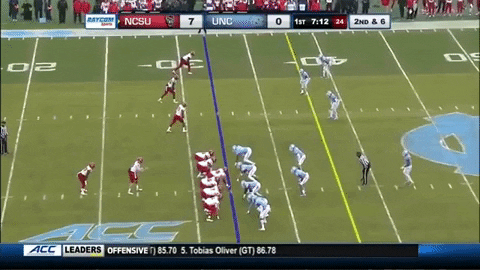 NFL Team Fits
Philadelphia Eagles
The Eagles need a serviceable backup quarterback. Not only is Nick Foles gone, but Carson Wentz has now missed time due to injury for two straight seasons. At this point, it wouldn't hurt to have a contingency plan.
Cincinnati Bengals
Andy Dalton can absolutely run your offense, and he actually was looking really good last year before he got injured. However, at this point in his career, we know what he is, and his ceiling is probably an early playoff loss. He also has been hurt for the majority of the last two seasons.
The Bengals have far greater needs than quarterback, but with a new coaching staff, if Finley is hanging around in the later rounds, I wouldn't be shocked if the Bengals grabbed him.
NFL Player Comparison
Landry Jones was a little more advanced than Ryan Finley at coming out of college, but I see them as similar types of players. They both are pocket players who can do some things okay, but nothing really good. They show some timing and pocket passing ability, but they can't really consistently put up points and will make too many mistakes facing NFL defenses due to their flaws.
Both might be able to hold down the fort if needed, but you wouldn't feel comfortable with either running your offense long term. And the more you watch them, the less you like them.
Round Projection
Round 4
This is the ceiling for Finley, in my opinion. I know he's being looked at as part of that second tier of starters, but I don't see it. What's really to fall in love with when it comes to his game? Maybe some GM will like his size, see the occasional arm strength, and think he can be developed. But he was an average starter at best in college, and that was with an offense that wasn't exposing him to the type of pockets and complex progressions he'll see in the NFL. When he did have to face those things, the result wasn't good.