School: Washington State
Class: Senior
Height: 6'1
Weight: 225 lbs
Gardner Minshew NFL Draft Profile
Top 3 Player Traits
Accuracy
Minshew's accuracy displayed in the below example is impressive. Not only does he have to avoid pressure and reestablish himself in the pocket, but he also delivers a ball with a nice zip and squeezes in the window between three Trojans.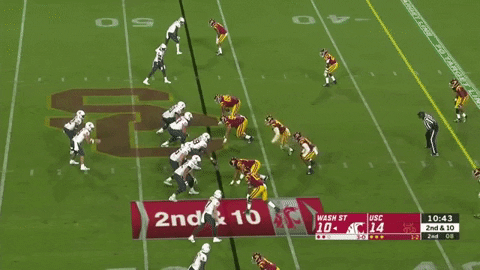 This second angle of the same play is even better.
Poise
In our next play, Minshew stays strong with a defender barreling down on him and not only completes a pass, but he delivers a perfect pass to the receiver who takes it to pay dirt. Without Minshew's poise, this play doesn't happen.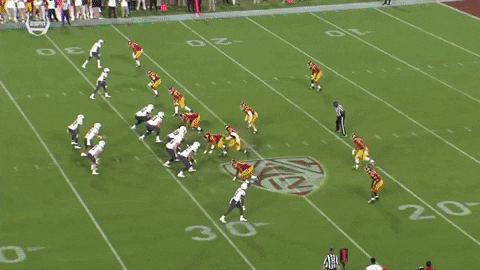 Eyes Downfield
Minshew is forced to abandon the pocket but keeps his eyes down the field the entire time he scrambles. His first priority is to find an open receiver to throw to. Even though his ball falls incomplete, no defenders have a shot at it and if anyone were going to get to the ball, it was his receiver.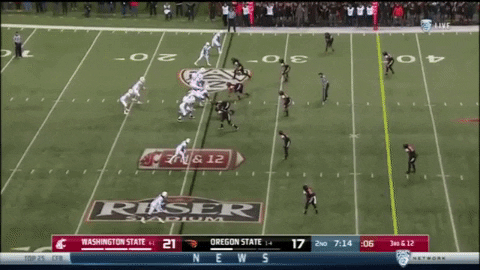 3 Player Traits In Need Of Improvement
Footwork
Minshew's feet are not always fundamentally sound. As you see below, Minshew becomes flat-footed and has no bounce. As a result, he fails to get his toe on his planting foot pointed where he wants it and his pass is behind his receiver. Causing him to have to adjust and fall down to make the grab, hindering his run-after-catch ability.
Another play where Minshew's footwork has a negative effect on the field. He attempts a throw off of his back foot and the ball sails into hands of an Oregon Duck. Turning the ball over in the red zone is a big knock on a draft grade.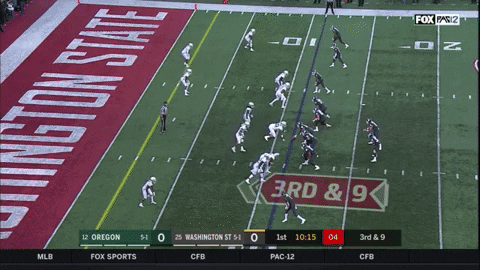 Height
In Gardner Minshew's defense, he cannot do much about the height he was blessed with. However, standing at only 6'1 has come up a lot in his tape. Way too many of his passes get knocked down at the line of scrimmage.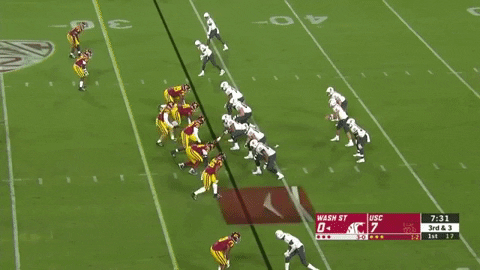 Again…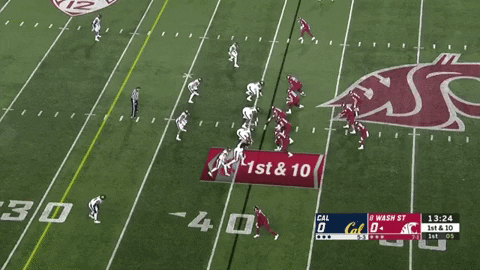 Arm Strength
Minshew didn't take a lot of shots down the field. He would throw it to his running backs a lot of the time or hit short to intermediate routes across the middle. As you can see below, there is probably a good reason for this.
Minshew has a clean pocket and plenty of time but his pass still falls short of his intended placement. The ball seems to lose momentum quickly and even though the receiver should have made the catch, it wasn't a good delivery.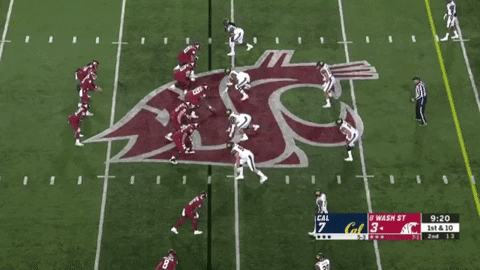 NFL Team Fits
Miami Dolphins
Miami is going to attempt and squeeze every single ounce of Fitzmagic that might be left but they are still in need of a franchise quarterback. Gardner is a potential late-round addition for Miami who could compete for a backup spot with fellow ex-Cougar Luke Falk.
Washington Redskins
The Redskins are probably the most quarterback-needy team in the NFL right now. They can use as many camp arms as possible and Minshew could provide someone who would compete for time and also provide depth.
Round Projection
Round 6