Easton Stick NFL Draft Profile | A Sports Al Dente Illustration
Easton Stick – Quarterback
School: North Dakota State
Class: Senior
Height: 6'1
Weight: 225 lbs
Easton Stick NFL Draft Profile
Top 3 Player Traits
Deep Ball Touch
While his deep throws may not be 100% accurate, he does put the ball in a spot where his receivers can go make a play on it. There is a lot of air underneath this one and the receiver lays out for it but doesn't come up with the catch. Stick still gives him a shot at it.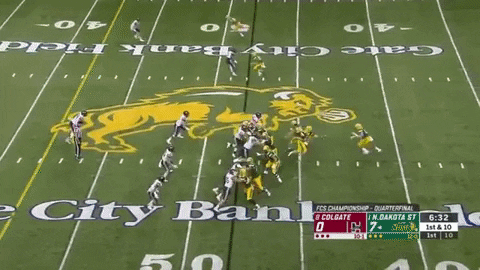 This is such a beautiful pass on a difficult route.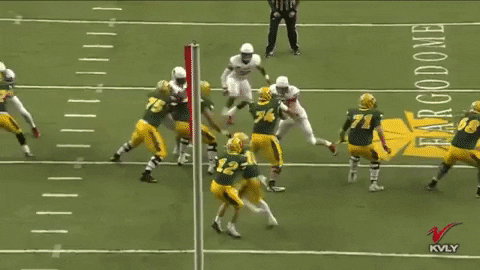 This is a throw some current NFL quarterbacks cannot make.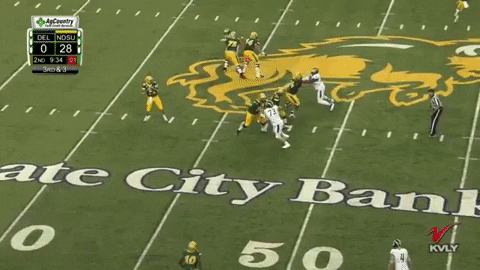 Pocket Presence
Stick's eyes stay downfield but he still feels the free rusher coming. He steps up just at the last second to avoid the direct hit. He then keeps both hands on the ball to prevent a fumble and once the rusher loses grip, he takes off and gets what he can. He turns a sack into six-yard gain.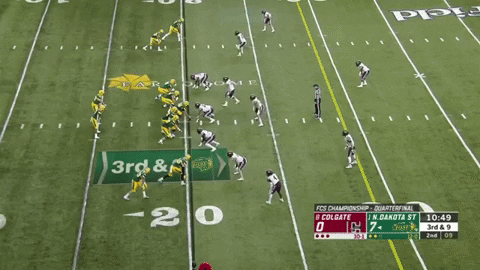 Play Extension
Stick has the innate ability to make chicken salad out of chicken sh*t. He can throw on the run and can extend plays thanks to his pocket mobility. He is a fun quarterback to watch.
3 Player Traits In Need Of Improvement
Forcing The Ball
Sometimes Stick will throw passes he shouldn't throw. He'll try to fit his passes into windows that are too tight. He'll also put his receivers in vulnerable spots.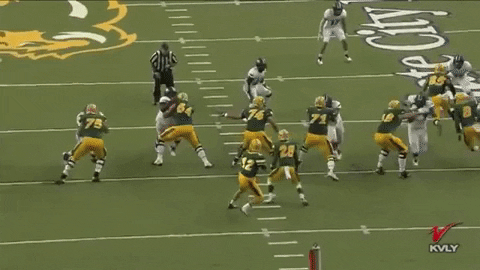 Rattled Under Pressure
Typically, when Stick came under duress he would escape the pocket and create something else on the run. If he stays in the pocket he has a lot of work to do. He loses his cool and does not keep his cool if he stayed inside the pocket with pressure in his face. Some quarterbacks are able to "extend plays with their legs without tucking and running." More often than not, Stick took off running downfield, which made him very effective at North Dakota State, but teams may not be looking for at the NFL level.
Level of Competition
Easton Stick made a lot of impressive plays for North Dakota State. However, it has to be addressed that he played FCS level competition. His ability to avoid pressure may be altered when he gets NFL-caliber pass rushers barrelling down on him.
NFL Team Fits
Kansas City Chiefs
Patrick Mahomes is one of the bright young stars in the league, and will likely be the unquestioned starter in Kansas City for the decade or longer, so this is not an indictment on him, but back Chad Henne is about as opposite as you can get from the 2018 MVP. Stick does not have the field vision or arm talent of Mahomes, but he does possess tremendous athletic ability and is just about the perfect player that Andy Reid could find a use for. His athletic traits and leadership make him a great candidate to backup Mahomes for many years, and with the type of character that he has, do not be surprised to see him coaching on the sidelines one day as another acorn dropped from Reid's illustrious coaching tree.
Denver Broncos
Rich Scangarello is implementing an offense that could suit Stick's skill set perfectly. Just look at the production that San Francisco was able to get out of Nick Mullens (who by the way is shorter, and more slight in frame). While he has good pocket presence, there is concern over his success when pressure is applied, which will be two-fold at the NFL level. The zone-scheme that Denver will run will take some of the pressure off of Stick and allow him to play outside of the pocket more and use his athletic ability more without putting his body at risk. Now, it may not be the rags to riches story where the late round pick takes over for Joe Flacco as the starter after three years and leads the Broncos off into the orange sunset, but this a great fit for Stick and a pairing with Scangarello would suit him well.
Philidelphia Eagles
Nick Foles is gone. He signed a very lucrative contract with the Jacksonville Jaguars. That means that the Eagles are in the market for a quarterback to backup Carson Wentz. What better player to backup Wentz than his former teammate in college that went on to lead his team to three national championships? This fit might make just too much sense as their games are very similar, and with Wentz's injury history (while Stick does not possess the same talent level), it would be wise to have a player with a very similar skill set to be waiting in the wings.
Los Angeles Rams
Stick's cerebral intelligence and attention to detail makes him the perfect developmental QB for Sean McVay of the Rams. Jared Goff is the guy in LA and should be for the foreseeable future, but Stick would make for a very capable backup, and with today's NFL contracts, you never know what may happen when it comes time to resign Goff.
NFL Player Comparison
Going into his draft year, Cousins had many of the same strengths and weaknesses as Easton Stick. Strengths: Tremendous leader, athleticism, came from a pro-style offense. Weaknesses: Decision making, inconsistency, throwing from the pocket when pressure is applied. Cousins' leadership ability and work athletic earned him a starting role and led him to become the highest paid QB (for a short period), even though he was a 4th round pick. With a lot of similar traits and attributes, Stick could find similar success if he finds himself in the right situation.
Round Prediction
Round 4 – Round 5