Clayton Thorson NFL Draft Profile | Photo Credit: Vincent Carchietta | USA Today Sports | Sports Al Dente Illustration
School: Northwestern University
Class: Redshirt Senior
Height: 6'4"
Weight: 226 Pounds
Clayton Thorson NFL Draft Profile
Top 3 Player Traits
Looking Off Defenders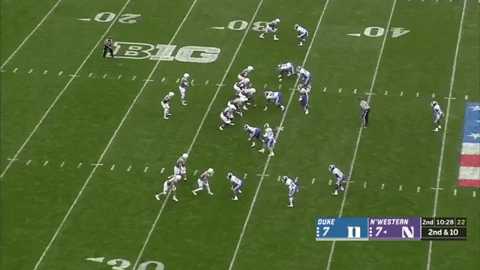 Thorson excels at looking off defenders with his eyes in order to create throwing lanes. Watch him start to his right, hit the top of his drop, and come back on time to find his receiver crossing the left side of the field. This play shows excellent poise, command, and manipulation of the defense by Thorson.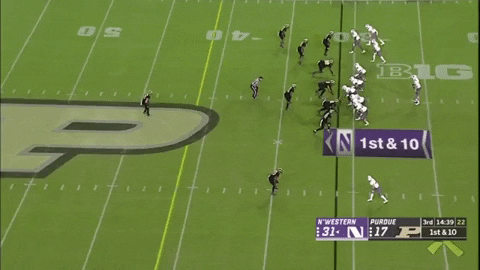 Here's another example. Thorton has one on one coverage to his left, and his receiver will start to the inside, stutter, and then break it back outside. Thorson takes his drop, looks right, and comes back to the left as soon as his receiver breaks out.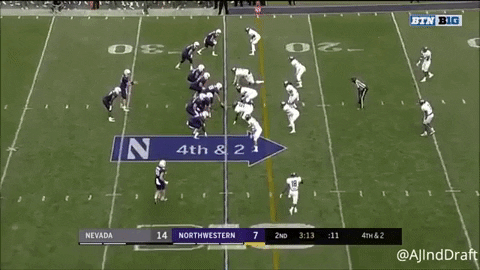 Here's a fourth down play. Thorson once again starts to his right. This draws the defenders in that direction and creates just enough of a window for Thorson to find his receiver in the middle of the field for a first down. Thorson also shows excellent patience and progression reading on this play. The short receivers are covered, and he waits long enough for the crossers to clear out so he has an open window on the dig behind them. Once again, Thorson is in control all along.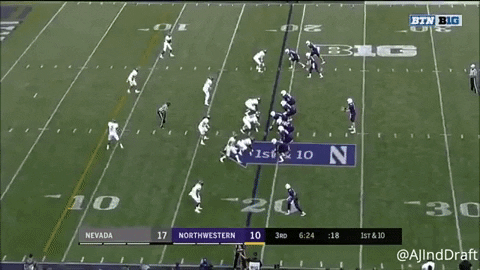 Lastly, here's one for a touchdown. Thorson starts to his left, and right on time, fires into a tight window on the seam for a touchdown. That receiver came from Thorson's right side, and he knows where he's going to be all along. Thorson holds the defenders just long enough to create the window, and as soon as the receiver comes through the zone, he turns back and fires without hesitation.
Arm Strength
With Thorson's size and strength, he has the ability to throw the ball into tight windows down the field. On this throw, the pocket is closing in. He sits on his back foot, flicks his wrist, and is able to make a strong throw in stride to his receiver on the deep out. That's not an easy throw to make.
This throw speaks for itself. Watch Thorson split two defenders with this throw, gunning it into his receiver with no time for the defenders to react. It's a tight window, as there are three bodies around the receiver on that play. You need a strong arm and confidence to make that throw, and Thorson has both.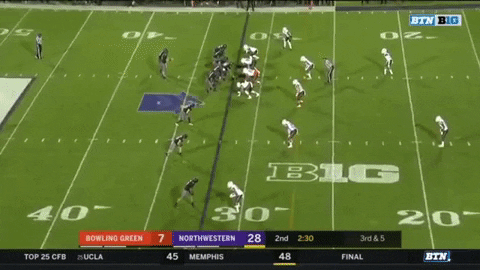 Here's a similar play, this time to Thorson's left. Once again, Thorson is able to thread the needle in between two defenders. There's an underneath defender reading Thorson on this play, and he recognizes where Thorson is going with the football. However, he's a beat too late, and Thorson knows he can get the throw in. For a lot of quarterbacks, this would be an ill advised play, but Thorson is impressive with his ability to fit the ball in.
Post Route
The post route is a tough throw. It requires arm strength as well as anticipation. The Northwestern offense wasn't super aggressive throwing down the field, but Thorson made a few of these throws that were impressive enough that I found them worth highlighting.
This is a 4th and 8 play, and Thorson delivers for the offense. He's going to be targeting his receiver furthest outside to the right on this post route. He drops back and takes a quick look to his left. He then comes back to his matchup and pulls the trigger on the post. Thorson shows great anticipation here, and it's necessary to complete this pass. He starts his throwing motion before the receiver breaks inside. This allows Thorson to hit the receiver right in stride just as he comes to the post. It also allows him to beat the far side safety with the throw.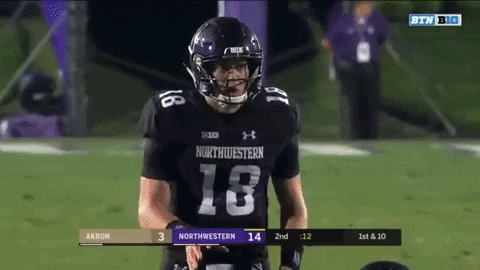 Here's another post route, this one for a touchdown. Thorson has to throw this early enough so that the defender, who's right there with the receiver, isn't able to make a play on the ball. But he also has to throw the ball with enough velocity to get down the field on time. He does both with ease, and the result is an impressive touchdown pass.
3 Player Traits In Need Of Improvement
Footwork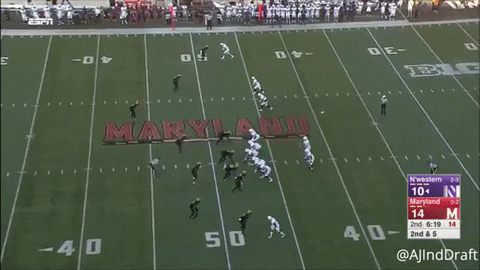 You'll see me talk about footwork a lot with these profiles, and rightfully so. You can tell just about everything you need to know about how comfortable and in command a quarterback is by looking at his feet. In this area, Thorson showed some troubling tendencies. On this play, Thorson has a clean pocket, but he gets happy feet and dances around as he moves to his right, before ultimately unleashing an off-balance throw with poor weight transfer.
Thorson is a lumbering and slow twitch athlete whose mobility is incredibly limited, so his game has to be built on poise from the pocket. That's why it's even more alarming when these types of plays show up. Since he doesn't have a compact throwing motion, he simply won't be able to recover quickly enough to make an accurate and on time throw if he loses his balance in the pocket.
Mobility
As I alluded to above, mobility is not a strength of Thorson's. He's a big, slow-moving kid, and it's tough to make a living in the NFL these days if you're that type of quarterback.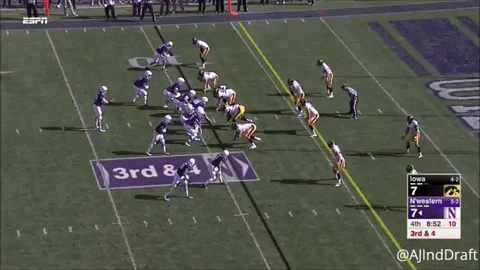 Here's an indicative play. Thorson drops back, scans the field, and as he's stepping up, he just runs right into a defender. He really has no chance of escaping.
This isn't really something that's going to change, so coaches are going to have to decide if it's something they're willing to live with when evaluating Thorson.
Accuracy
Lastly, here's the most alarming part. Thorson simply is not that accurate a passer. His career completion percentage at Northwestern was 58.4%. His receivers didn't help him out with drops, but he also far too often simply did not put the ball where it needed to be.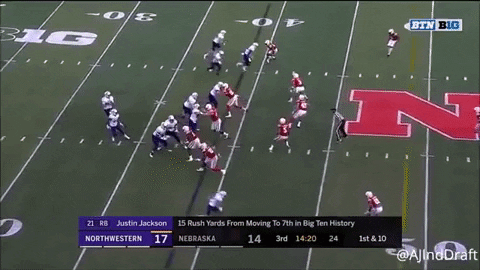 Thorson on this play has no pressure and a wide open receiver on a slant route. This should be an easy completion to bring up second and short, but instead, Thorson throws it high and it's an interception.
Here's another example. Thorson has an open receiver running down the seam, and he sails this ball close to ten yards out in front of him. It's even too far for the safety to make a play on.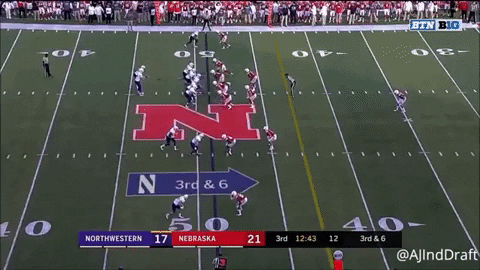 Here's a deep out on 3rd and 6. It's a tough throw, but again, it's just not close enough to the receiver. Even as the receiver makes a diving attempt to catch the ball, he still isn't able to get his hands on the ball.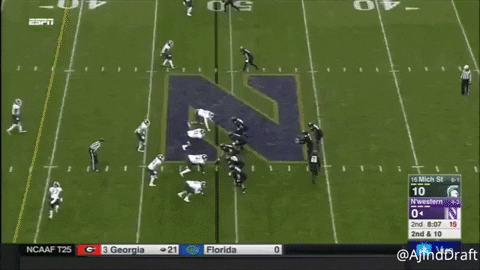 And lastly, here's a sight that was all too common from Thorson's tape. Clean pocket, a receiver running 1 on 1 down the sideline, and Thorson badly underthrows the ball.
NFL Team Fits
Tampa Bay Buccaneers
Jameis Winston is what he is at this point: a quarterback that absolutely can play at times, but who will also make too many inaccurate throws and head-scratching decisions. With a new coaching regime and no more Ryan Fitzpatrick, I would not be surprised if the Bucs picked up someone as a backup plan if Winston continues to be unable to get the job done. As a big, tall, strong-armed pocket passer, Thorson fits the typical Bruce Arians QB profile.
Philadelphia Eagles
With Nick Foles gone, the Eagles also need a new backup for the often injured Carson Wentz. Although much less talented, Thorson is a similar profile to Wentz, and he could be comfortable in the user-friendly QB system of the Eagles.
Round Projection
Round 5
I know many are projecting him higher, but I really don't see an NFL QB in Thorson. His college completion percentage was under 60%, and his adjusted yards per attempt was a measly 5.9. He's an immobile, deliberate pocket QB who also has footwork and accuracy problems, particularly with the deep ball. That doesn't give him many areas to excel.
NFL Player Comparison
It's not a perfect comparison, but I definitely some Bortles in Thorson. He has size and flashes occasional timing and throwing ability from the pocket, but his overall game leaves a lot to be desired, in many parts due to how deliberate he is, mixed with his accuracy and mechanical concerns. Bortles coming out, however, was a much better prospect than Thorson is.