School: University of California, Los Angeles
Class: Redshirt Junior
Height: 6'4"
Weight: 235 Pounds
Caleb Wilson NFL Draft Profile
Top 3 Player Traits
Stick Moves
Since tight ends mainly play in the middle of the field, they are in somewhat of a unique position when it comes to route running. Unlike wide receivers, who, when lined up on the outside, are playing with a field boundary on one side, tight ends typically have both sides of the field to work with. This is an advantage, but one that requires quickness and route-running savvy to fully utilize. When facing defenders in the middle of the field, the best tight ends are able to move quickly in and out of their cuts in order to fake out defenders and lead them away from the actual route.
This is an area where Caleb Wilson excels. In watching his tape, I consistently noticed an ability to quickly "stick" defenders in one direction before breaking open the opposite direction.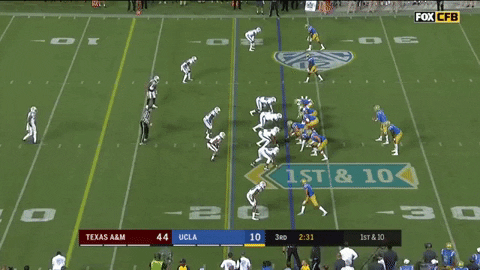 On this play, the linebacker's leverage is a bit toward the outside. Wilson starts in that direction and provides a very quick stutter move, which, along with quarterback Josh Rosen's pump fake, gets the linebacker to jump the play. Wilson then breaks back to the inside and the ball is waiting for him, and he's able to secure a first down while the defender is left trailing.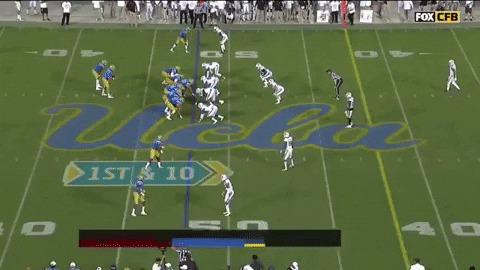 Here's a similar play. A quick move to the outside brings the linebacker out of position, and Wilson is able to break back to the inside without hesitation, securing another first down. Wilson's ability to "stick" defenders to the outside before breaking back up the field was crucial in this comeback win against A&M.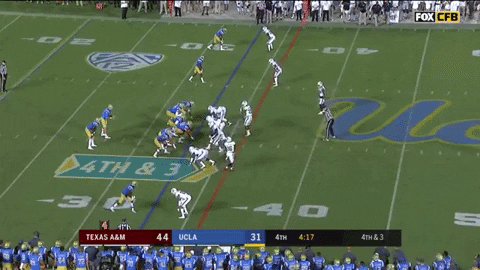 Here it is one more time. Facing 4th and 3, down two scores with just over four minutes left in the game, the Bruins needed a big play here. Wilson again delivers with the route. He starts to the outside, puts a stutter move on the linebacker, and cuts back to the inside. The result of the play is a big gain on the fourth down conversion.
Run-After-Catch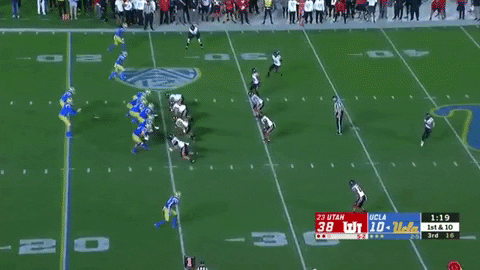 Though running after the catch wasn't necessarily the biggest part of Wilson's game, it's definitely an area where he showed ability when needed. Take this play, for example. Wilson catches the ball on a shallow crossing route, but he has two defenders closing in on him. He slows down, makes a move, and is able to make both of them miss, turning upfield and almost getting a first down.
Here's another example. Wilson sits down in Washington's zone defense and makes the catch on a quick out route. Despite being surrounded by two defenders, he effortlessly cuts back and causes the defenders to collide before fighting for a first down.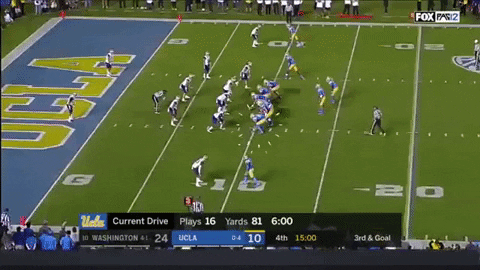 This play was one of the best of the season for Wilson. On 3rd and goal, he catches the ball in the flat and is well short of the first down. Yet he is able to turn upfield, bounce off defenders, and make his way toward the endzone for the touchdown. It's pure determination by Wilson on this play.
Playing From The Slot
UCLA frequently would detach Wilson from the formation and ask him to win routes one-on-one in the slot. He was able to do so quite often, and it's a skill set that an NFL team would be wise to utilize from Wilson, were they to pick him in the draft.
Wilson starts this play in the slot to the left. Despite facing inside leverage, he is able to use his body and athleticism to gain position on the defender on a skinny post route. Speight fires the ball in with some sauce on it, and Wilson is able to make a nice catch for the first down while out-bodying the defender.
On this play, Oklahoma's defense has a coverage bust, and Wilson is left running wide open down the seam. Not only does he convert the first down on 3rd and long, but he's able to gain some major yards after the catch. Wilson presents a tall and athletic target when playing in the slot. He's essentially a bigger wide receiver. He reminded me of Marques Colston at times.
Here's another example of how Wilson can be an asset running routes from the slot. Here he runs a wheel route from the slot. The outside receiver going to the inside while Wilson takes the outside path blurs the coverage responsibilities for Oklahoma's defense, and Wilson is able to secure the catch down the field, presenting a tall target for quarterback Dorian Thompson-Robinson. Wilson is best used on downfield routes that utilize his speed, such as seam routes.
3 Player Traits In Need Of Improvement
Play Speed
Though Wilson certainly has speed for a tight end (he ran an impressive 4.56 40 yard dash at the combine), there were times when he looked slow coming off the ball. I question if Wilson has enough burst to get going right off the line, or if he's a guy who takes a while to get to his top speed.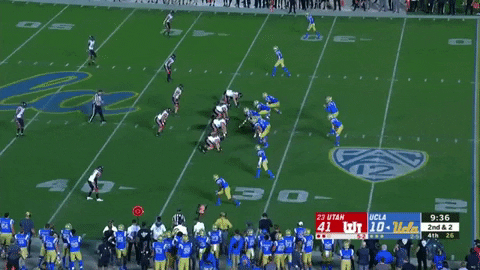 On this play against Utah, Wilson runs a seam route from the right slot. The attempted pass to Wilson from Speight ends up being broken up by the underneath defender. It looks like Wilson wasn't able to get inside position on this play. In his defense, the coverage was good, and the ball was thrown a little behind. Nonetheless, if you watch him at the beginning of his route, he does look a little slow, and I question if that prevented him from getting further inside the defenders on this play.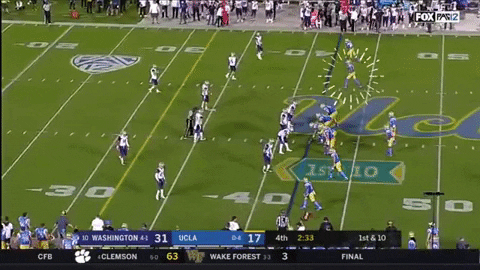 Here's an even better example. Wilson starts in the slot to the right. Thompson-Robinson ultimately decides to go elsewhere with the ball, but from what we can see of Wilson, he's running awfully slowly on this play. I'm not sure if it's part of the play design (since the defenders are off and it's late in the game), or if it's just an effort thing by Wilson, but it's something to keep an eye on.
Contact Balance
This is the biggest concern for Wilson in my opinion. When faced with press coverage or when jammed by defenders, he tends to lose balance in his lower body, disrupting his routes. If he doesn't correct this issue, his route tree will be awfully limited in the NFL.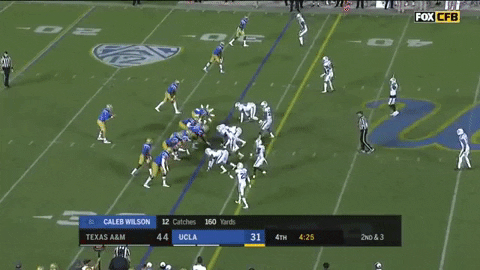 On this play, Wilson once again starts to the outside before attempting to break back to the inside. But this time, the linebacker jams him before he is able to make his cut. Rosen is pressured and hurries the throw, but he's expecting Wilson to have broken to the inside to catch this one inside and take it upfield. It's a quick route. Instead, Wilson gets stuck in the jam and is unable to complete his route on time. As a tight end, if you can't overpower linebackers, you're going to have a tough time in the NFL.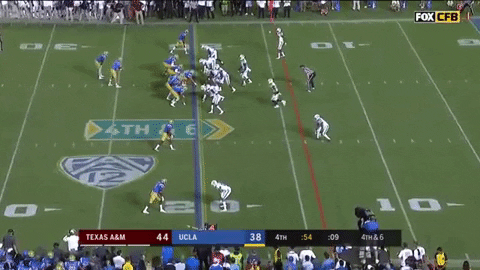 The ball goes away from Wilson on this play, but keep your eye on him. He's lined up tight to the formation on the right side of the line. The defender stays with him tight in press coverage throughout the entirety of the play. Wilson attempts to break to the outside just past the first line marker, but he is unable to do so. In fact, he stumbles, loses his balance, and falls to the ground. As a go-to playmaker, if you get one on one coverage in key situations, you have to be able to win, and Wilson is unable to do so here. He'll need to improve his strength and lower body balance come next year to avoid these kinds of mistakes.
Drops
Wilson had 7 drops on 108 targets in 2018 per PFF. It's a number he'll have to improve on. He needs to do a better job of securing the football when plays are there to be made.
On this play, Wilson runs an over route and creates separation past the first down marker. The throw is on the money and he has plenty of green grass ahead of him. And yet, the ball bounces off his hands.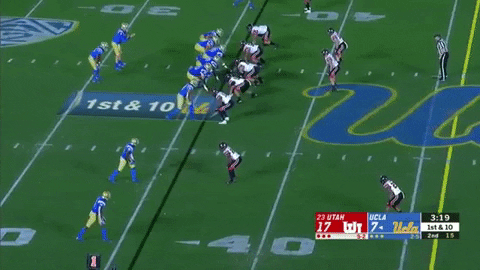 This one is even worse. Wilson gets deep downfield on a seam route and quarterback Wilton Speight makes an absolutely perfect throw and drops it in Wilson's hands. He doesn't have to break stride at all and should he hold on, it's an easy touchdown. Instead, Wilson lets the ball go off his hands. Those are opportunities you can't pass up.
NFL Team Fits
Green Bay Packers
The Packers haven't really had a matchup problem at tight end since Jermichael Finley, and when he was clicking and involved in the game plan, it really added an extra dimension to their offense. With Aaron Rodgers at QB, we know the path to success for this team is going to be through the passing game. A speedy, difference maker at tight end who could split out wide and present matchup problems in the slot, and who could get downfield in the seam, could really help Aaron Rodgers and this offense get back in rhythm.
Cincinnati Bengals
Andy Dalton is a quick rhythm inside the numbers passer, and he's always performed better when he has a reliable safety blanket at the tight end position to throw to. We know about what Tyler Eifert can do, but unfortunately, he's had trouble staying healthy. Tyler Kroft never really worked out and is off the team now. Caleb Wilson would be a good fit for them to give them some security at the tight end position.
Tennessee Titans
Delanie Walker missed almost all of last year with an injury, and he's getting older and won't be playing forever. The smaller, quicker Wilson would be a nice complement to the larger Walker, and could also learn from him and potentially be the guy a couple of years from now. Marcus Mariota also tends to be an inside the numbers passer, and he throws a pretty nice seam ball as well. This Titans team seems like it's always been lacking in weapons in recent years. Wilson would give them a much-needed spark down the field.
Round Projection
Round 4
Wilson's going to be in the eye of the beholder. On the one hand, you have FBS leading production on some not so great UCLA teams, as well as impressive speed. On the other hand, you have questions about size, strength, and flexibility. The question is if his production in college can translate to the NFL. In a pretty talented tight end class, Wilson won't be off the board in the first few rounds. But I think eventually, a team will look at his production and skill set and believe he could be a major asset to their offense.